---



| StartUp | Inside Stuff | Profile | Achievements | Lyrics | Tour | News | Contact | FansZone |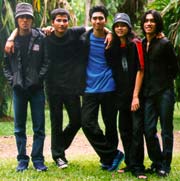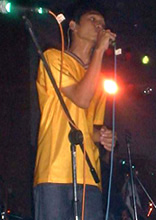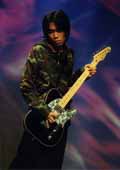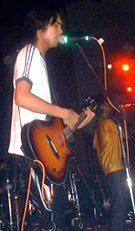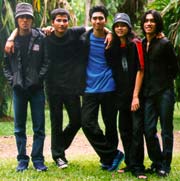 *pictures taken from sheila-on-7.com*

---
[This interview is taken from HAImagazine Th XXVI No.13]

>> The Mineral Water Tragedy! <<



Duta:
Until now, I still can't forget the incident that happens a year ago at Istora. The occasion was when Eross was jamming with mas Once and mas Baron. It was at the end of the first song going to the second song, and as usual there are people throwing stuff... right at me. "Oh, it's okay," that's what I thought. I kept on singing.

In the middle of the fifth song, I was singing face to face with Eross. Suddenly, he said, "What's wrong with your forehead? It looks like you're bleeding. Let's stop!" And Eross was right, my forehead was bleeding. The show was stopped for a moment, and after I got it bandaged, we went on.

Actually, I did see the person who's throwing the stuff at me. I could see him because he was standing in front of the gate and he was bigger than his friends were. And during the show he kept on showing me his middle fingers while snickering at me. I tried to ignore him.

When the show was ended; this person kept on hooing us. I felt a little mad. I didn't know what's wrong with him, it seemed that he hates Sheila so much. And when I gave mineral water to the audience, I threw the bottle straight at his head on purpose. I couldn't help myself!

After that I asked the police who's guarding the gate to get that person backstage. I wanted to ask him what he wanted. I'd waited but he didn't come. From what I heard after was that he had been 'processed' first by the police and few of my friends.

I swear to God I didn't want it to happen. I wasn't the one who told them to do it. I just wanted to talk to him. When I was told about it, I felt bad. I didn't want it to end that way.

I am used to gossips about us. I think it is natural if there are some people hating Sheila and then they say bad things about us. I consider it as our consequences. That's the consequences for the million copies we got. Suppose Sheila's album was not booming, there wouldn't be jealous people. If we're not ready for that kind of consequences, we wouldn't want to make million copies.

The problem is that the incident is not only a matter of hurting my heart. If only that, like I have said before, I won't think of it. But that incident hurt me physically... what if I couldn't keep on singing? It would be a lost for them who really wanted to see us!
---
[This interview is taken from Star Mania Volume 06]

>> The most romantic moment? <<



Duta:
"When she tells me that she loves me. We don't have to be face to face when saying it. We can say it by using telephone, letter, or even sms. When I tell her that I love her, that's the most romantic moment in my life..."
---
[This interview is taken from Anita - Mini Book Special Edition]

>> When we were child! <<



Eross Candra:
* "When I was a child I really want to be a crosser like Dad, but now I turn out to be a musician."

* "I have more abilities in music because of my musical surroundings. Since I was still in Kindergarten I am used to hear cello and flute. My uncle taught me about music and when I was in the 2nd year of Junior High I have been able to write songs."

* "Since a child I have liked Bon Jovi and always listened to his songs. Because I am his fans, I usually acted like him in front of a mirror, with broom as a guitar...he...he..."



Saktia Ari Sena:
* "I have been to Bali using airplane, that is why when I was a child I wanted to be a pilot. Because we can fly freely wherever we want to go."

* "When I was a child I was bad. I like to play on a roof to get a kite and I fell. I really didn't like to drink my milk using pacifier."

* "Since I really like playing a guitar, I even use a broom instead a real one."



Akhdiyat Duta Modjo:
* "When I was in 1st grade of Elementary School, I won Adzan Competition at UGM. I am the first winner and Adam is the third."

* "My father is used to record my sister's and my voice. But I was the one who always get hold on the mic and sing alone."

* "I like to make fun of my sister, Badriena, until she cries. I never stop until she cries!"



Anton Widiastanto:
* "Since I was a child, I was tending to be shy. I was so timid that whenever I drink my milk, I wrap the pacifier with a napkin."

* "I like to play drum since the 2nd grade of Elementary School. Then I learned by myself using chopsticks or pencil. I use them to hit the table until it chipped...he...he..."

* "A funny story when I was a child is that one day, I went inside a box and couldn't get out."



Adam Muhammad Subarkah:
* "When I was a child, I pretended to know about everything and lied to my friends. I once lied to them by saying that if they plant a toy car it will grow into a real one...he...he..."

* "Since I was a child, I wanted to be a famous person. When I like to do sport, I want to be an athlete. When I like to paint, I want to be a famous painter."

* "My mom always tell me to thank God for his divine gift of grace. Not to be conceited and arrogant."
---
[This interview is taken from rileks.com on 26 February 2001]

>> Special Interview with Eross Candra! <<



Many people want to know how do you make songs? How is the process of creativity?
Eross: My songs comes spontaniously. I always write what I feel and what I want to say. So usually the result is good.

Does it mean you don't need special time and place to make songs?
Eross: The idea can come anytime. For example, I'm in the bus and suddenly the idea comes, I usually think of the theme. And at home I make it into notes or lyrics.

If I listen to the poetical Sheila On 7's lyrics, it seems that you like to read poems or other literal readings?
Eross: Actually, I don't really like to read poems. I prefer to read Chicken Soup or books about how we deal with lives.

Why is that?
Eross: Because when my soul is already affected, already understood some characters, writing the songs will be a lot more easier.

Is it true that you get the idea of writing "Sephia" (the secret lover) from the ghost of one of you fans?
Eross: Ha..ha..ha.. No, it's not true. I've already heard about that rumor, saying that Sephia is a ghost.

So what's the truth?
Eross: Hmm..if I tell you now who is Sephia, it won't be exciting anymore. Maybe later when I'm old.

So your theme songs are really your own experience?
Eross: Almost 99% is my own experience.

Back to your secret lover. Do you always have Sephia when you have a relationship with someone?
Eross: Yup..ups..no. No. Ha ha ha.. I believe that every men have a gift from God to give their love not only to one woman. This kind of person usually will feel the joy in his life. The person who have that love is a person with rich heart.
---
[This interview is done on 22 May 2000 by Yuni]

>> Just Curious... <<



Who wakes up early and who doesn't?
SO7: It depends on who goes to bed first, but to tell you the truth, Duta, Sakti, and Anton are the sleepy heads.

Adam? If reading is one of your hobbies, what kind of book do you like to read?
Adam: I like to read, but it really depends on my mood, except for KungFu Boy.

Anton? Why do you seem to be seen indifferent and smile less?
Anton: My image is like that.

Duta? The rumor said that you're using drugs, what do you say about that?
Duta: Rumor is just rumor. Alhamdulillah until now I never touch and use drugs.

Eross? Whenever you have the idea to write a song, what do you do? Write the lyric first or...what?
Eross: It is different everytime, sometimes I write the lyric first, sometimes the accord first, and sometimes both.

Sakti? How in earth could you like Tweetty so much? :þ
Sakti: Well, it's up to me, actually I am confuse about the same thing too.

When is your practising schedule? How many times a week? How long?
SO7: We practice regularly, especially when we have new songs or when we're having shows. 2 times a week. Mostly 6 hours.

Before you guys go on stage, what do you do?
SO7: We pray and warm up.

Which one do you prefer? Do the show live or lipsync?
SO7: As a musician and entertainer, of course we must perform live in our shows.

According to you, what kind of person is Mas Anton? And what does he mean to you?
SO7: Mas Anton is a person with less talk but work much...and for us he is a co-worker, a friend, and a good guardian.

Where is your favorite place to hang out?
SO7: Inside the music studio and music store.

What are the things given by your fans which is unforgetable for you?
SO7: Tart Cake, The Painting of the five of us, etc.
---
[This interview is taken from CONTACT Volume 7 No. 39]

>> Pssst...it's a secret! <<



What's the first thing to do when you wake up in the morning?
Adam: Do my morning prayer and show God how grateful I am to be alive!
Anton: Nothing. I just go back to sleep.
Duta: Prepare for my prayer.
Eross: Simply go back to sleep.
Sakti: Wudhu and Shalat.

What do you ask for in your prayer?
Adam: I ask for happiness for me, my family, and for the people in the world.
Anton: I wish for a long life.
Duta: Security for me and my family and livelihood from God.
Eross: Forgiveness for my sins!
Sakti: I hope that God always guide me on the right track.

What did you want to be when you were a kid?
Adam: I wanted to be big.
Anton: I just wanted to be a kid, that's all.
Duta: Superman!
Eross: Just myself.
Sakti: A pilot.

What's the worst thing you ever did at school?
Adam: I always cheated on the tests and often got caught.
Anton: I once hit my teacher's head, and now I feel sorry.
Duta: Wet my pants in my second year of elementary school.
Eross: I once fell on a trash can.
Sakti: Fighting! Fighting! And fighting!

What's your idea of a wonderful date?
Adam: Sitting together, doing nothing, and letting the time go by.
Anton: I never think of a date! I sleep!
Duta: Say it with flowers, man.
Eross: Have fun and spend some money. It's great, isn't it?
Sakti: She and I go to a special place.




* NEXT ISSUE: Gossips! :) *
---
!!! copyright © 2000 by YuniQ